In collaboration with MySimplePetLabs, we are thrilled to invite you to participate in our initiative as we launch Vetster Diagnostics to the US! This new feature, added to your prescription pad, will allow you to order a fecal test kit for patients you identify as appropriate, from within your Vetster appointment.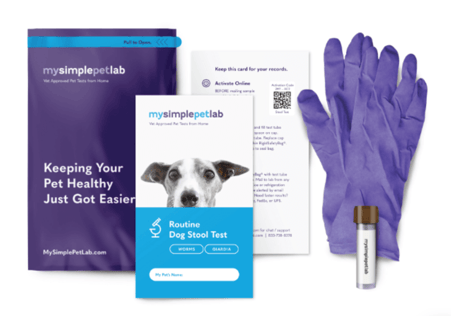 Here's how it works:
1. In your Vetster account, and within the appropriate appointment record, order the Vetster Diagnostics + Follow-up appointment through your prescription pad. The client will receive an email letting them know that a kit has been added to their account for them to order. The client can then decide whether they'd like to proceed with placing the order.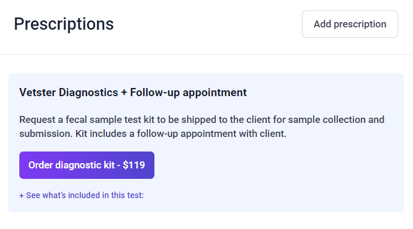 2. Once a fecal kit has been ordered by the client, it will be delivered to them within 2-3 business days. All of the instructions and materials needed will be provided within the kit, along with a shipping return label.
3. Once the lab receives the fecal kit from the client, results will be released within 24 hours. Completed test results will be automatically uploaded to the follow up appointment.


Note:
Priced as a bundle fee of $119 USD, clients will receive a comprehensive test kit, inclusive two way shipping, and a follow up Vetster appointment with you, the ordering veterinarian, to review the results. Once the results are available, our team will contact your client to schedule their appointment. Completed follow up appointments will be paid out at flat rate of $42*.
*Less standard platform fees.
Questions? Feel free to reach out to our Support team via live chat or email us at support@vetster.com.